As explained in my post here, I am resigning from my position as BukkitDev staff. The main reasons can be found there, but the tl;dr is that I don't want to be a slave to a multi-million dollar company.
I had great times at BukkitDev. I feel like the staff team has become like a second family to me, and it tears me apart that we are all leaving now, going our separate ways. Here's a little story of my time at Bukkit.
11-Jan-2011
I join the Bukkit community. As a beginning server owner I was eager to see what bukkit could do. I just before joined HMod, and a few days later HMod was discontinued. So I moved quickly to Bukkit 🙂 I grabbed some plugins, made a server, but it wasn't enough. I decided to take on Programming. A Moderator had just discontinued his Sortal plugin, so I decided to try and update it. I opened up the source and… had no idea at all what it said 😀 I kept going though, and got help from Samkio (Thanks for that!). Now, over three years later, I am thankful to everyone who helped me out in the early stages of my coding interest.
19-Dec-2012
I apply for BukkitDev staff. By this time I have updated Sortal to be awesome, released my Skillz plugin and did a couple of smaller plugins. BukkitDev was looking for volunteers to help out with the Queue, and I thought I might as well chip in.
9-Jan-2013
I join the BukkitDev crew and get mentored by Obnoxint (thanks for that). Since a BukkitDev Staff position comes with a lot of responsibility and a fancy orange tag on the forums, I have to watch out with what I'm actually saying on there, since everyone will think that it's an official statement from BukkitDev. I may or may not have posted some things that tickled some admins, but hey, it's all part of being an admin, right?
06-Sept-2014
5408 approvals, about 1000 deletes and countless hours later, it is the end of my, and many other admins, run. It's been a great and long run, but there are companies closing in on us, pinning us down in a slavish position. I'm really eager to see what Mojang is going to do with Bukkit, and to see what Curse is going to do with BukkitDev. It's all probably going to hell. Good thing the Modding API is scheduled for Beta 1.8, right? I mean, 1.3. Oh no, 1.4. Still not? 1.5 maybe? No? Ok. Guess we won't see that for a long long time then.
Enough of this nonsense. The only way I am ever going to go back to being a BukkitDev admin is if I get some compensation for it. This may seem extremely selfish, after all, Bukkit is a community-driven non-profit project, right? It was. Bukkit apparently has been owned my Mojang for a long time now, and let's face it. Who even plays Minecraft Vanilla anymore? Minecraft's success is not only theirs, it is also Bukkits. We practically took a shovel, started digging money and threw it right into Mojangs pockets. I think this meme is relevant now: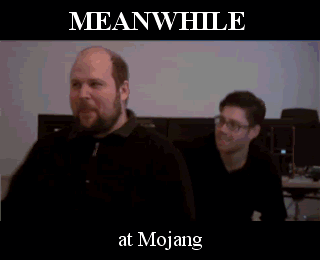 The problem here is not that Bukkit is so popular. It is that Bukkit apparently is owned by Mojang. This, in my eyes, means that it is no longer a non-profit organisation. It's only still community driven because Mojang didn't touch it at all (That's actually a good thing). Taking this into account, all of the BukkitDev staff were working their asses of, thinking they were approving files and projects for Bukkit, and not Mojang. Hell, if Mojang were to ask us "Hey, want to work hard for us by approving files and projects while you get nothing for it and we cash in?", I would have laughed at them in their face and walked away.
Just to make it clear; not a single BukkitDev staff has ever gotten anything at all from Mojang or Curse. I understand why Curse doesn't do it since they practically are our sponsor, paying for the servers and such. But Mojang? They were just sitting back and chilling a bit. Or whatever they do at HQ.
All of this said; It's been awesome. To all BukkitDev staff, thanks for being awesome, and sometimes helping me with personal issues.
I'll still be around on Bukkit/BukkitDev, after all, I have plugins that need updating. No idea who's going to approve them, but that's not something to think about right now.